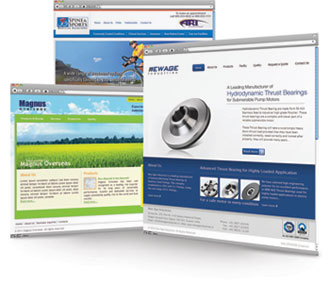 Website Design
Website Designing, Website Redesigning
In today's extremely competitive marketplace, a clear, dynamic, functional presence online is essential for every viable business, company, organization and institution. That is where our professional Branding and Design expertise and experience are particularly important. A professionally designed Website is the first thing which will set a company apart from its competition and help make a strong impression on Internet visitors. And, it goes without saying that a well-designed, effective Website is a very cost-efficient Marketing tool. In fact, today, every other Marketing tool usually points prospects to the company's Website for the most dynamic presentation, including general information and also product benefits and features.
A Website is the best way to allow prospects and existing customers and clients to download brochures, directories, manuals, White Papers, research and other collateral materials — providing the element of immediacy while saving business the cost of printing, shipping or mailing.
Websites begin with the same challenges as every other element in a company's Marketing & Communications arsenal, but Websites also have challenges which are unique to the Internet. Websites must: Attract, engage and impact visitors — and hold them long enough to communicate, persuade and promote. Those challenges and tasks are anything but simple, especially in today's world, with many possible variables — for example, Streaming Video, Flash and other "moving parts" — and new variables being created and introduced every day. Added to that, a Website's "Downloading Rate" itself becomes a motivating factor, in the face of an ever-increasingly impatient prospective audience! Complicating that reality, the traditional rules of effective Marketing still apply to Websites, just as they do to all other Marketing and Promotion media.
Everything we may develop for any specific client or assignment — as with all of our Branding and Design solutions — our work is strictly custom-created for that particular project. They do have several things in common with every other assignment we take on for any client: Our Web Design solutions are simple, clean, effective and cost efficient.
Online Marketing Tools
Email Marketing
KAL STUDIOS develops strategic web solutions that support the full range of marketing activities, positioning your website at the very heart of your business strategy by employing strong and targeted online marketing tools. Our solutions promote and deliver your products and services to the right people, in the right place, at the right time.
Email Newsletter & Flyer
Email Newsletters & Email flyers are one of the most effective and inexpensive ways to market your website through one of the simplest Internet technologies available: e-mail. Not only can you use email newsletters to drive traffic to your site, you can also use them to target messages to a specific interest group. We are not talking about unsolicited e-mail but permission based email that builds consumer relationships and loyalty.
At KAL STUDIOS we create customized email newsletters and email flyers for your company to keep in touch with your clients, prospects, vendors, and business associates. E-mail marketing efforts can be made to adopt the look of your existing website. We can design and build true one-to-one relationships with customers where your message will be timely, relevant, personalized and engaging.
PDF Brochure & e-Catalog
Downloadable PDF Brochure & e-Catalog Designing
Imagine being able to give every customer a full color brochure of your services or a complete catalog of every item you carry without spending anything on printing. Now you can!
A pdf brochure that can be updated at anytime and cost you nothing to print because your clients print it off themselves. You pay for set up and changes only. We even give you a file so that you can email it to clients that want a e-catalog.
Another benefit of the service is that the client can print it no matter what type of computer they have. This is one great service! Anyone can open your pdf brochure or e-catalog across a broad range of hardware and software, and it will look exactly as you intended - with layout, fonts, links, and images intact.